Auto Accidents Care at
Chiropractic Group of Overland Park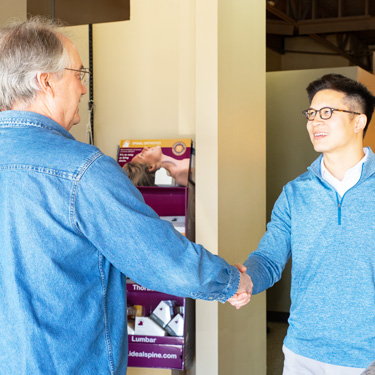 Have you recently been in a fender bender? Is there a car collision in your distant past that you have never quite recovered from? No matter if you had an auto accident days ago or years ago, Dr. Tran at Chiropractic Group of Overland Park can help you. He has undertaken training in treating motor vehicle accident victims and chronic issues that can plague you for life if not addressed.
At our practice, we can provide the comprehensive solutions you need with a combination of chiropractic, physical therapy and spinal decompression. Digital X-rays and motion X-rays can be taken on-site to understand your needs fully. Then, we can determine the most appropriate plan of action to help get you better.
The Effects of a Collision on Your Body
Muscles and ligaments surround your spine. In a car crash, the force is transferred to your spine, which can result in small tears to these surrounding structures. The joints in your arms, legs and knees, for example, are delicate and easily injured. If they are not healed properly, it can lead to lifelong chronic pain.
The discs of your spine are also affected in a crash. Disc herniations can result when the ligaments around the spine are weakened. Your bones won't have the support they need, which leads to degeneration. Once this process begins, it cannot be reversed.
The Signs That You Need Help
If you have been in an auto accident, you will notice a gradual worsening of your pain. You may have daily headaches accompanied by dizziness, nausea and trouble sleeping. If your neck was injured, you might have pain in the shoulders, arms and hands. It is also common to have numbness in the wrist. A low back injury can result in pain down the leg along with numbness and tingling.
Insurance and Liens Accepted
We work with all health insurance and auto insurance companies. We also accept liens for those who have been in an auto accident Overland Park. That means you won't have to worry about paying up front. Coverage can get complicated in a car crash. Most patients have no out of pocket expense. We will be happy to discuss these options with you at your first appointment to keep it simple.
Start Your Recovery Today
It can take time to feel better following a car accident. Don't delay in getting the treatment you need. Contact us today. Same-day visits are available.
CONTACT US »

Auto Accident Chiropractor Overland Park, Lenexa, Kansas City KS | (913) 383-2276