Meet Dr. Adam Tran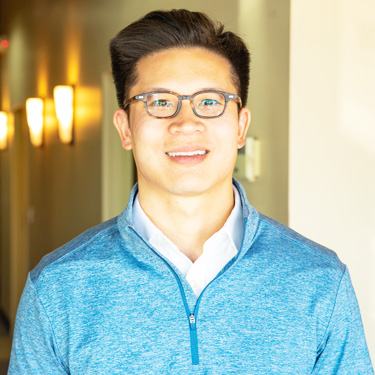 In high school, Dr. Tran had a low back injury while playing hockey that continued to bother him into his college years. He heard about chiropractic from a friend and decided to give it a try. After a single treatment, the effects were immediate. Though he had been in school for nursing, he knew that he was meant to be a chiropractor.
"I realized that chiropractic was about much more than helping low back pain. I had no doubt in my mind that I wanted to pursue the chiropractic profession."
A Career in Natural Health Care
To earn his Doctor of Chiropractic, Dr. Tran attended Cleveland Chiropractic College in Kansas City. Since 2010, he has been a part of the Overland Park community. He enjoys helping people live better, healthier lives. Everyone responds to care differently, but the vast majority of Dr. Tran's patients achieve phenomenal results.
"My goal is to make you healthier. People who are more conscious about their health and care about themselves always heal faster. It is gratifying when a patient heals and then comes back with a spouse or a family member. Referrals are the biggest compliment I can receive."
Over the years, Dr. Tran has continued to learn with regular educational courses. He holds certifications in auto accident injury, whiplash and the management of chronic pain and conditions.
EXPLORE OUR SERVICES »

Outside of Chiropractic
Dr. Tran enjoys working out and weight training and is a member of the KCA and the Asian Chamber of Commerce. He also likes to go hunting, spend time outdoors and drive cars. In his spare time, you can find him hanging out with family and friends.
Insurance is accepted at Chiropractic Group of Overland Park. We are in-network providers with many plans. Contact us today to book your first appointment.

Meet Dr. Tran | (913) 383-2276