Chiropractic Care
Living without pain is something that too many people think is out of their reach. At Chiropractic Group of Overland Park, we want to help you be free from discomfort, enjoy greater mobility and have a higher quality of life.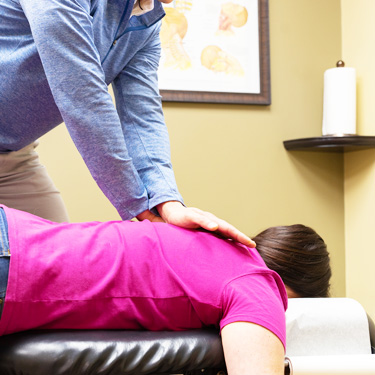 The many conditions that we often see include
Car accident injuries
Disc herniation
>Disc injury
>Headaches
Joint injuries
Muscle/ligament injuries
Neck and back pain
Sciatica
Scoliosis
Soft tissue injuries
Sports injuries
Whiplash
What You Can Expect
At your first visit, we want to gather information so that Dr. Tran can understand the cause of your problems and how best to help you. We will likely see you more often when you first begin care. By doing so, we can control your pain and reduce it as quickly as possible. By grouping visits closer together, we can start to make positive changes immediately. If left for too long, your damaged state may worsen.
Once your pain has gotten better, we may add therapy like spinal decompression or physical therapy exercises to your care.
Accommodating Your Preferences
If you have been to a chiropractor before and prefer a certain technique, Dr. Tran will be happy to use the same method. He provides manual and instrument-based adjustments. The instrument is gentle and won't produce noise when used, which some people prefer.
You will be walked through the adjustment before starting. There are no surprises, and our patients are surprised at how easy it is.
Start Your Healing Today
If you have been plagued by pain or injury, do not delay. Contact us today to schedule your appointment and get the care you need. Same-day visits are available. We accept insurance coverage, including Medicare.
CONTACT US »

Chiropractic Care | (913) 383-2276